If you are a fan of Art Deco style but are not sure where to start, we thought we'd highlight some of the incredible feature wall tiles you can use to create your perfect interior. Art deco tiles in the hallway, kitchen, or even outdoors immediately gives your home a classical look. And if you have a neutral colour scheme, a classy geometric print will add depth and intrigue.
Read on to learn more about choosing the right tiles for your Art Deco home.
What is Art Deco style?
Art Deco developed throughout America and Europe during the 1920s and 1930s, contrasting with the minimalist, nature-inspired art nouveau period that came before. The Art Deco design style influenced all decorative arts, from interior design to high fashion and car design.
Art Deco style survived the '20s, the Depression of the '30s, and even the Second World War. It was only in the '50s that it started to fall out of fashion, with the post-war period favouring the stripped-down midcentury modern style.
However, in Australia, Art Deco is experiencing an ongoing rise in popularity, and interior designers seek to connect with the past, moving away from austere minimalist interiors towards the opulence, grandeur, and sophistication of this iconic style. If you want to add some Art Deco flair to your living or bathroom space, here is a quick Art Deco guide.
What to look for when selecting feature tiles for your Art Deco-inspired space
There are many ways to add an Art Deco feel to your home, and one of the easiest places to start is by selecting ceramic tiles.
Classic Art Deco elements
Typically, the Art Deco style focuses on rich colours, bold geometry, and decadent detail work. Modern interpretations of the Art Deco style bring added luxury and order with symmetrical designs and abundant shapes. Think bold, fluid, and symmetrical motifs, patterns, and themes.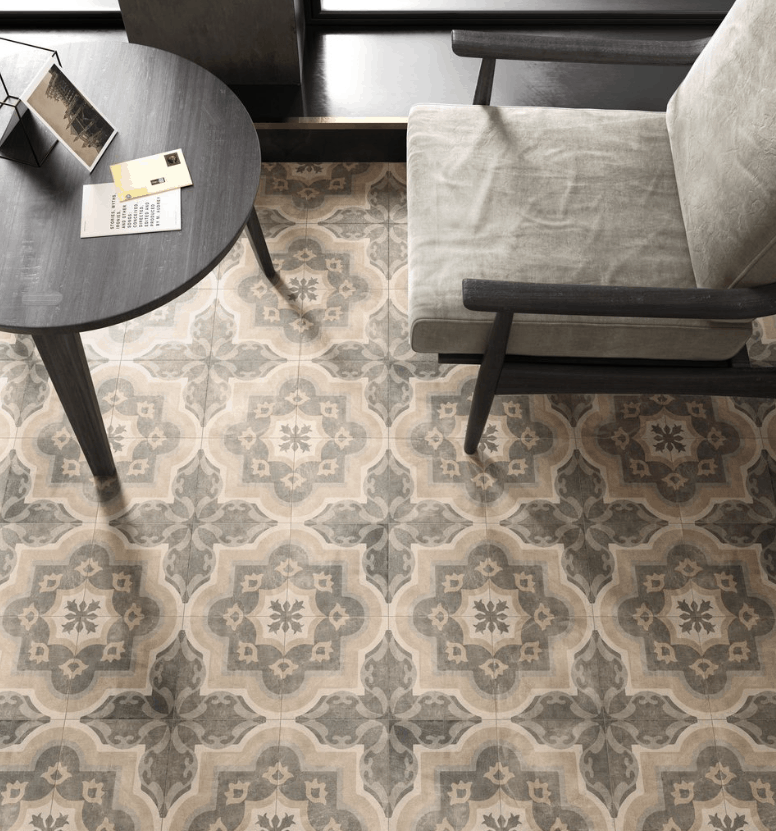 You want to create a strong, bold look without fussiness or romance. Here are some of the most common Art Deco design elements:
Sweeping curves
Triangular shapes
Animal print
Common Art Deco-style materials
Along with incredible Art Deco feature wall tiles and mosaic tiles, certain materials define this design style. Using mixed metals like gold, chrome, mirrors, and steel was popular, along with high-end fabrics like velvet and animal skins.
Art Deco colours
Generally, Art Deco styling is associated with bright, bold, and unapologetic colours.
Pair colours with high-shine silver, chrome, or black accents.
Colours include bright and deep yellows, reds, greens, blues, and pinks.
Softer colours include creams and beiges (used in living rooms, dining rooms, and bedrooms).
Mix colours with polished wood and lacquered furniture.
Squares and straight lines
Opt for the classic black and white look for a simple take on Art Deco style. A simple square tile in contrasting colours will do the trick. It's equal part art deco and modern and can be worked in the bathroom, kitchen, or even a hallway or living space.
Choosing Art Deco-inspired feature tiles
Here are our top tips for your home's ultimate Art Deco-inspired feature tile.
Keep it simple
Choose one or two hero colours and add a contrasting pop of colour for personality. Use two bathroom tiles of the same size but use two different colours. By alternating the tile colour you create a feature while keeping the space minimal and cohesive. This is an effective way to create interest and variation while knowing that your tiles will fit perfectly.
To incorporate colour, you might consider subway tiles, which come in various vibrant colours. We recommend choosing light green tiles or pink on the walls.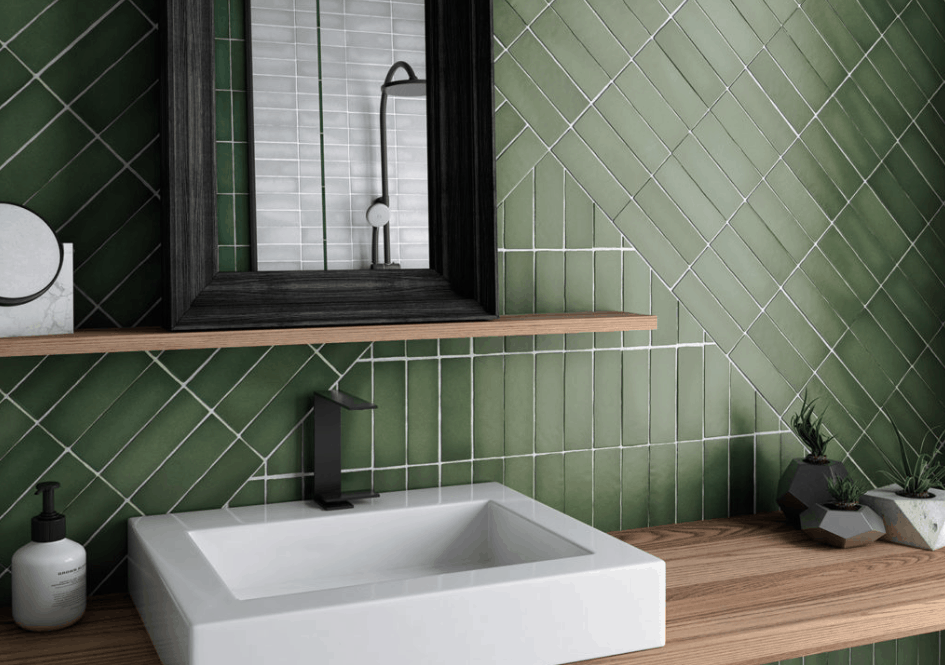 Add bold texture
Don't just stop at different coloured tiles – consider adding different textures. The texture is powerful in the Art Deco space, and we have many tile collections with subtle, modern textures to explore. A textured feature is a perfect partner to any modern, regular, flat-finish tiles. Our textured tiles are one of our favourite ways to add a feature while keeping the space cohesive.
Play with patterns
Patterns are central to the Art Deco style. Choose how to best express your unique style through clever bathroom feature wall tiles.
Remember that while the Art Deco aesthetic is quirky and loud, you can still take an elegant approach to the trend. You can mix and match different design elements until you create the perfect room for your home.
Don't be afraid to put together some unexpected colours and patterns to balance simplicity with dramatic shades and shapes.
Choose the Tile Clearance Outlet for cheap feature wall tiles and mosaic tiles
Tile Clearance Outlet offers quality discounted tiles in Perth. We have an extensive range of neutral and brightly coloured wall and floor tiles, perfect for every interior design.
Our online store makes it easy to search for the tiles you love, and we'll even send you 5 sample tiles for FREE! We deliver around Perth for only $99, and our heavily discounted products and easy payment options mean you'll have your tiles on your doorstep before you know it.
Browse our extensive tile ranges online, including concrete-look tiles, natural stone, glass mosaic, and much more, to find the best floor tiles at the best price for your home.
Or contact the Tile Clearance Outlet team directly for advice, sales, and support.